More strikes at Lewisham Southwark College in row over job losses
17 June 2015
Staff at Lewisham Southwark College are walking out again tomorrow as part of three days of strikes as they step up their campaign against more than 100 job losses at the college.
UCU members will be on strike on Thursday 18 June, Friday 19 June and Tuesday 23 June. Picket lines will be held outside the main entrances to the college's four campuses in
Lewisham
,
Deptford
,
Camberwell
and
Waterloo
each morning from 7:30am.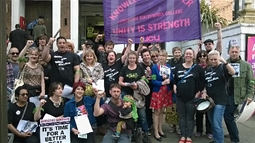 UCU members protest during Thursday's strike against job losses
On Thursday there will be a rally starting at 10:45am outside the
Lewisham campus
. On Friday there will be a demonstration outside the
Camberwell campus
, which is under threat of closure.
The college management has blamed government cuts for its plans to axe 112 posts, but UCU says the college has failed to fully explore alternative financial strategies and has created unnecessary delays in agreeing voluntary redundancy packages for staff.
In the recent ballot, UCU members overwhelmingly backed strike action with 85% of those polled voting in favour of walking out. There has already been one day lost to strike action in the dispute after staff
walked out earlier this month
.
UCU regional official, Una O'Brien, said: 'Strike action is a last resort for staff at Lewisham Southwark College, but we are increasingly frustrated with the college's slash and burn approach to its difficulties. The college should sit down with us and discuss all the options available.'
from http://www.ucu.org.uk/index.cfm?articleid=7554&from=1676
http://morningstaronline.co.uk/a-5b07-South-London-Lecturers-back-on-strike-against-100-job-cuts#.VYL01PlVikp
SUPPORT MESSAGE FROM GPTU
The Green Party Trade Union group sends solidarity to Lewishan College UCU members who are in dispute against job losses at the College. We recognise both the justice of defending workers' pay, conditions and jobs: and also the importance of Further Education as part of a properly funded education system in this country.